Exhumation of 4·3 massacre sites at Jeju airport resumes after 8-year hiatus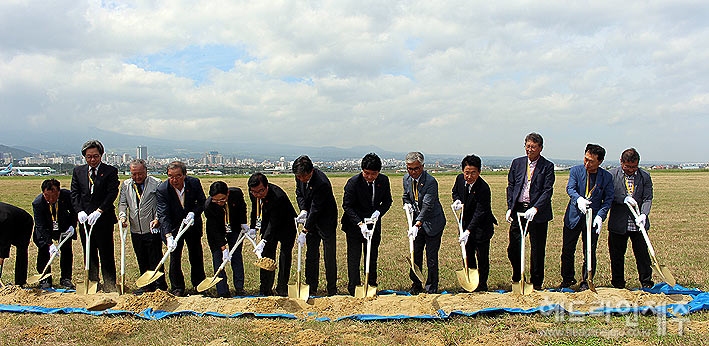 The exhumation of mass graves connected to the Jeju Uprising and Massacre (Jeju 4·3) at the Jeju International Airport has resumed following a sudden halt in the project eight years ago in 2010. The airport is a known site where victims massacred 70 years ago by state power were buried.
At 10 a.m. on July 10, the Jeju 4·3 Peace Foundation performed Gaetoje (a ritual for the god of land that is held before exhuming a grave) at the site to be unearthed at the airport. People in attendance expressed their anticipation for the remains of the missing to be recovered and for the excavation to be completed without incident.
In his speech, Jeju Governor Won Heeryong pledged, "the provincial government will provide full support for the resumed project until the last victim returns home to his or her families."
He continued: "I have high hopes that resuming the exhumation marking the 70th anniversary of Jeju 4·3 will help ease the pent-up anger and sorrow of the deceased and their bereaved families, and will serve as a new milestone for the complete resolution of the case."
Jeju 4·3 Peace Foundation President Yang Jo Hoon stressed, "on the 70th anniversary of Jeju 4·3, one of the tasks that should be accomplished is to disinter the victims' remains." He also said, "I hope that the project will be fulfilled successfully this time and that we can help the victims be properly buried in graves on a sunny hillside."
Yang Yoon-kyeong, chairperson of the Committee of Victims' Families of Jeju 4·3, claimed in her speech, "exhuming the remains should not be limited to the airport but cover all of the sites of the massacre and secret burials that are scattered over the island." Concluding her remarks, she stated, "I cautiously anticipate that the exhumation project will be more fruitful than we expect. Hopefully, it will mark a new era for the efforts to uncover the truth behind Jeju 4·3 and restore honor to the victims."
The previously suspended project to discover the remains of the missing victims had been carried out in three stages from 2006 to 2010. During the project, a total of 400 remains were unearthed with 92 of them having since been identified.
The Department of Forensic Medicine of Seoul National University has been conducting DNA analyses on the unidentified remains, which is expected to be completed by late October this year.

Copyright ⓒ Headlinejeju.co.kr | Original Article Here