The long-awaited first step of the 4·3 Trauma Center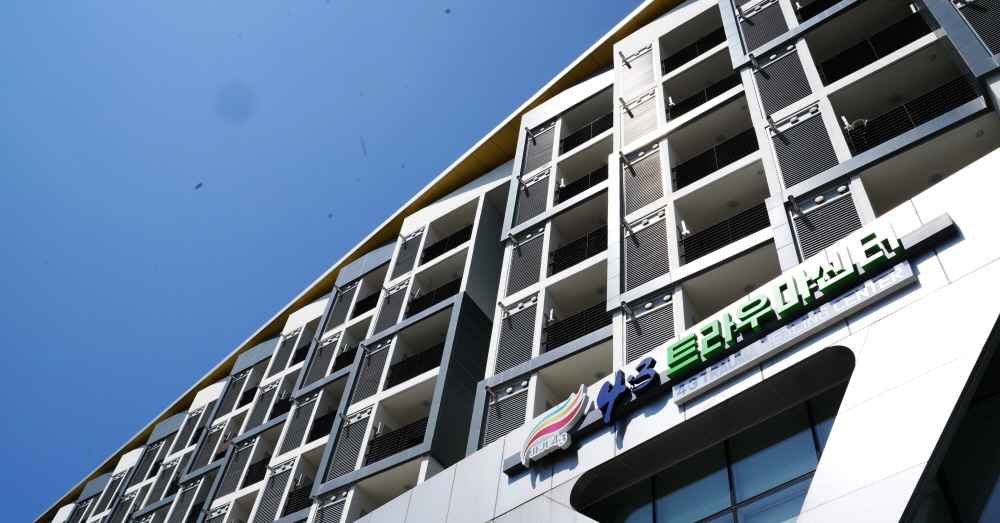 _ Oh Seung-gook, deputy director of the Jeju 4·3 Trauma Center
The long-awaited 4·3 Trauma Center has finally opened. As a result, the Jeju 4·3 Peace Foundation will play a role in providing psychological and physical treatments not only to the surviving victims of Jeju 4·3 and their bereaved families but also to those who have suffered from the results of government development projects.
The 4·3 Trauma Center, which opened on May 6, aims to realize sustainable peace in Jeju by improving the health and quality of life of the victims and cultivating a sense of community.
To this end, the center will implement its operational goals, focusing on the following three key areas:
First, the center will begin its operation by offering psychological treatment to the victims of both state violence and government development projects with a focus on the victims and bereaved families of Jeju 4·3. It will also work to achieve peace in the local community through historical, cultural, and social treatment efforts.
Second, in order to build a sense of community solidarity through 4·3-related trauma, the center will operate an integrated case management program linked to the local community, establish a network with the local community including 4·3-related organizations, and do its best to foster exchange and cooperation with other institutions in South Korea and abroad.
Third, the center will urge the government to prevent trauma and fulfill its responsibilities by investigating the current situation regarding 4·3-related trauma, promoting support projects, and conducting academic research.
The Commitment Made by President Moon Jae-in
In Jeju society, discussion on 4·3 trauma first began during a conference hosted by the Jeju 4·3 Research Institute in 2003. Lawmaker Kang Chang-il then consulted with the government at the National Assembly and gave shape to the metropolitan mental health center, part of the program promoted by the Ministry of Health and Welfare. President Moon Jae-in, in his commemorative speech marking the 72nd anniversary of Jeju 4·3, promised full support to elevate the Jeju 4·3 Trauma Center to a national trauma center. Prior to this, he had also promised to build the Jeju 4·3 Trauma Center in his speech at the 70th anniversary. Jeju Governor Won Heeryong also promised to establish the Jeju 4·3 Complex Center, which would perform the function of the Jeju 4·3 Trauma Center as part of his election platform.
The Jeju 4·3 Trauma Center will be run in Gwangju and Jeju until the National Trauma Center is built in accordance with the applicable law. The Jeju 4·3 Peace Foundation is in charge of operating the center with a matching budget from both the central government and Jeju Special Self-Governing Province. The number of Jeju 4·3 victims and bereaved family members, who are subject to trauma therapy, has reached 17,000. Among them, 39.1% of the surviving victims and 11.1% of the bereaved family members are at high risk of post-traumatic stress disorder, needing urgent treatment. Currently, among those who need urgent trauma therapy, 95 suffer from a disability incurred because of the massacre, 32 suffer from issues related to their false imprisonment, 13,297 are first-generation bereaved family members, 2,882 are first-generation daughters-in-law, and approximately 1,000 others are victims of national development projects, such as the Gangjeong naval base.
Indiscriminate suppression, which was rampant on the island during 4·3, left the people of Jeju with pain that cannot be forgotten even 70 years after the terrible tragedy. As these long-standing historical wounds have been passed onto the next generation, those subject to trauma therapy may include those of the second generation.
Operation of Programs for Counseling, Art Therapy, and In-Home Therapy
In the years to come, the 4·3 Trauma Center will run a number of healing programs, including psychological education, various art healing programs (painting, literature, music, horticulture, forest, and travel), physical therapy, oriental medical treatment, physical rehabilitation, and counseling for individuals, families, and groups. In addition, the center is planning to operate various programs, including in-home therapy for bereaved families, support for self-help gatherings, and hosting shelters in each eup, myeon, dong, ri in each field. The center is also planning to continue research on trauma caused by national development projects.
Against this backdrop, the center will actively participate in improving social awareness to prevent state violence as well as exchange and cooperate with local and international communities. In addition, the center will pay close attention to historical, cultural, and social healing, in turn strengthening its function to spread peace throughout the local community.
A Shelter for Comfort and Healing
The 4·3 Trauma Center has several roles to play: providing psychological and physical healing and rehabilitation not only for surviving victims and bereaved families of 4·3 but also for the victims related to past historical events and national development projects, improving the health and quality of life of victims of traumatic events by offering holistic services through a multidisciplinary approach, and to do its utmost to perform its social healing functions for the restoration of peace on the island. Since the 4·3 Trauma Center is located in the newly built Narakium building at the former site of the Tax Office in Gosan Dongsan, Jeju-si, it is easy for bereaved families to visit.
We eagerly await the victims and bereaved families of Jeju 4·3 and the residents of Gangjeong, who fought against the construction of the naval base, to visit the center. The center will provide professional psychological therapy and serve as a gathering place where the victims can heal, and in doing so set an example as a trauma center tailored to the needs of the local people.
<Interview>
"We will make a great effort to heal victims so that they can return to their daily lives."
Jeong Yeong-eun, director of the 4·3 Trauma Center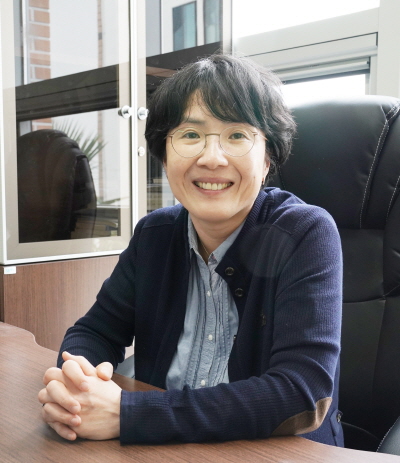 Q Please tell us how you feel about becoming the director of the center.
As a psychiatrist, I have met a lot of people in Jeju while providing clinical treatments over the past few years. On top of that, I have done a number of tasks in various fields, including working on policies and providing advice on mental health and psychological public health matters, and in the process, I have learned about the suffering the surviving victims and bereaved families of Jeju 4·3 have had to go through. In the field of psychiatry, my specialty is related to trauma and stress. As I have studies various types of trauma, including that caused by Jeju 4·3, I have endeavored to develop and apply trauma healing models. I feel a great sense of responsibility due to the high expectations regarding the 4·3 Trauma Center, but I also feel honored to be given an opportunity to participate in such a meaningful cause. I will do my best in the years ahead.
Q Prior to the opening of the center, you visited the Gwangju Trauma Center. How was it?
Recently, South Korea has made a lot of academic and political development in the field of psychiatry related to disasters and trauma. Currently, there are experts in place to deal with trauma issues in various regions throughout the nation, including at the National Center for Trauma under the National Center for Mental Health, which is in charge of providing psychological support for disaster situations, such as related to COVID-19 and the Ansan Onmaeum Trauma Center that supports survivors and bereaved families of the Sewol ferry disaster. In particular, the Gwangju Trauma Center, which I visited while preparing for the opening of the 4·3 Trauma Center, began a healing project ahead of us that supports the victims of the May 18 Gwangju Democratization Movement who were torture by the government and vicitims of state violence. This visit helped me a lot to gain some ideas with regard to how to operate the center and what to include in our projects. The 4·3 Trauma Center plans to advance into the future by working together with various trauma-related organizations and experts from home and abroad, including those at the Gwangju Trauma Center, and sharing the content of our projects through that network.
Q What are the top priorities for the 4·3 Trauma Center?
Our 4·3 Trauma Center has been garnering a lot of attention as it offers a new healing model concerning the long-term aftereffects of trauma.
First of all, it is our primary goal to conduct a treatment program that focuses on the psychological pain and the emotional damage of surviving victims and bereaved family members of Jeju 4·3 so that they can return to a peaceful, everyday life. Rather than dealing with those who were directly traumatized, we plan to pay attention to the pain of descendants and family members of trauma victims and the difficulties of the village community. Instead of simply treating symptoms, we will develop and provide a number of psychological recovery programs to help promote the mental health of the community so as to restore the local relationships, help them overcome adversities and grow as people.
Q Are there any last words you would like to say?
We will work hard so the 4·3 Trauma Center 4·3 can provide professional psychological healing programs to those in need and play a role as a gathering space. I am well aware that the work we are doing is essential and I will work hard with a sense of responsibility. Please show a keen interest in our work.