Raising Awareness of 4‧3 among faculty across South Korea – Informing 4‧3 across the Nation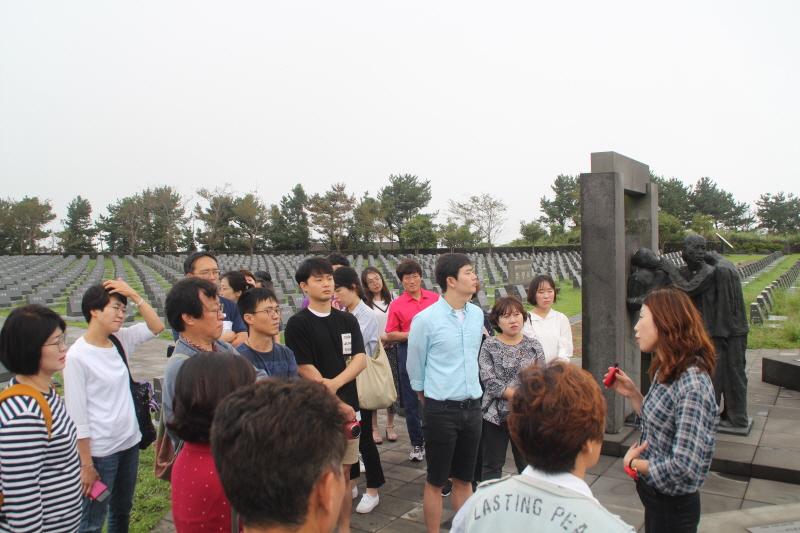 4‧3 Peace Foundation to Operate Job Training for 560 Faculty Members from across South Korea from June 14 to Nov. 15
A nationwide 4‧3 peace and human rights education and job training program for teaching staff in South Korea will be operated to raise awareness of Jeju 4‧3.
The job training program was prepared by the Jeju 4‧3 Peace Foundation (president: Yang Jo Hoon) and the Education Office of the Jeju Special Self-Governing Province. One thousand teaching staff from across South Korea have been invited.
As a result, the Jeju 4‧3 Peace Foundation is to take charge of 560 faculty members from June 14 to Nov. 15, beginning with training internal staff and dedicated education staff from the Education Office of Chungcheongnam-do Province from June 14 to 15. A total of eight training periods will be held.
For the 15 hours of education, the participants of the 1st training period will take theory classes as well as tour historic 4.3 sites.
Lecturers for the theory classes include: Kim Jong-min, a former special member of the 4‧3 Central Committee; Kim Soo-yeol, a poet; Heo Young-sun, director of the Jeju 4‧3 Research Institute; Kang Deok-hwan, a poet; Lee Young-gwon, director of the Jeju Institute of Historical Research; Yang Jeong-shim, executive director of investigation and research at the 4‧3 Peace Foundation; Choi Sang-don, a folk singer; Kim Dong-hyeon, a literary critic; Han Sang-hee, school commissioner of the Seogwipo Education Office; Lee Mun-shik, a teacher at Gueom Elementary School; and Woo Sang-im, an artist.
The field trip will be led by: Oh Seung-guk, head of the general affairs team at the Jeju 4‧3 Peace Foundation; Jang Youn-shik, head of the Memorial Project Team at the Jeju 4‧3 Peace Foundation; and Kim Eun-hee, head of the research department at the Jeju 4‧3 Peace Foundation. They will inform the participants of the value of peace and human rights based on 4‧3 as the topic.
Moreover, on June 14, the first day of the program, the novel "Sun-i Samch'on" will be used as class material to teach Jeju 4‧3 and a lecture, "4‧3 and Literature," will be given by novelist Hyun Ki-young, the author of "Sun-i Samch'on" and the recipient of the 2019 Jeju 4‧3 Peace Prize.
President Yang Jo-hoon said, "As last year's 70th annual job training program was a success in informing the nation of 4‧3 and raising nationwide awareness, we expect much on publicizing 4‧3 more broadly in the education field."
He added, "We hope that the capacity for educating the spirit of 4‧3 peace to teachers across South Korea will be reinforced and that the truth of the 4‧3 Incident will spread throughout the field of education."
※ Number of participants: 560
| | | |
| --- | --- | --- |
| Period | Date | Participants |
| 1st | 19.6.14 ~ 6.15 | 70 Staffs from Chungcheongnam-do Office |
| 2nd | 19.6.20 ~ 6.21 | 70 Staffs from Seoul Office |
| 3rd | 19.7.25 ~ 7.26 | 70 Staffs from Daegu Office |
| 4th | 19.7.30 ~ 7.31 | 70 Staffs from Gyeonsangbuk-do Office |
| 5th | 19.8.8 ~ 8.9 | 70 Staffs from Jeollanam-do Office |
| 6th | 19.9.26 ~ 9.27 | 70 Staffs from Incheon Office |
| 7th | 19.10.24 ~10.25 | 70 Staffs from Jeollabuk-do Office |
| 8th | 19.11.14 ~ 15 | 70 Staffs from Gwangju Office |
Attached: pictures taken last year during the job training program