It Took 70 Years to Meet the My Family
[Field Report] At the reporting session of identified remains of the 4·3 victims
Kim Yeong-mo, Commemoration Team, Jeju 4·3 Peace Foundation
"Thank you. I am very grateful to have my father back even though it is late."
The moment the name tags were placed onto the urns, the auditorium at the Jeju 4·3 Peace Education Center filled with the sorrowful wailing of the bereaved families. Their parents and siblings who were victimized and whose bodies were lost due Jeju 4·3 some 70 years ago were finally returned in urns to their long grieving loved ones. The bereaved families who were finally reunited with their long-lost relatives after having grown very old were unable to stop crying during the identification of the remains.
On Jan. 22, a total of 12 victims of the Jeju 4.3 Incident were officially identified, including two brothers whose bodies were confirmed through DNA testing.
Of the 12 identified victims, five were confirmed to have been executed following military trials in 1949 while the remaining seven were found to have been victims of preventative custody in Seogwipo in 1950. These remains were excavated from the northwest and northeast areas of the north-south runway of Jeju International Airport between 2007 and 2009. In order to identify the remains, the blood of 291 bereaved family members was collected and DNA testing was carried out to place names to the victims.
The 12 identified victims include Ko Wan-haeng (from Mureung, Daejeong·born 1917), Ko Ju-man (from Seohong, Seogwi·born 1929), Kim Young-ha (from Topyeong, Seogwi·born 1932), Kim Jae-chul (from Uigwi, Namwon·born 1930), Yang Deok-chil (from Sillye, Namwon·born 1918), Yang Ji-hong (from Uigwi, Namwon·born 1921), Oh Gwan-hyung (from Susan, Seongsan·born 1920), Im Gong-hwa (from Donggwang, Andeok·born 1920), Jeong Ok-ju (from Sillye, Namwon·born 1891), Hyeon Bong-gyu (from Sanghyo, Seogwi·born 1920), Hyeon Chun-gong (from Sanghyo, Seogwi·born 1924) and Hyeon Haeng-ju (from Seohong, Seogwi·born 1925).
The two brothers — Heo Nam-ik (from Seonheul, Jocheon·born 1921) and Heo Nam-seop (from Seonheul, Jocheon·born 1923) — were identified in 2018 but their relationship was only officially confirmed after an additional blood collection drive was conducted.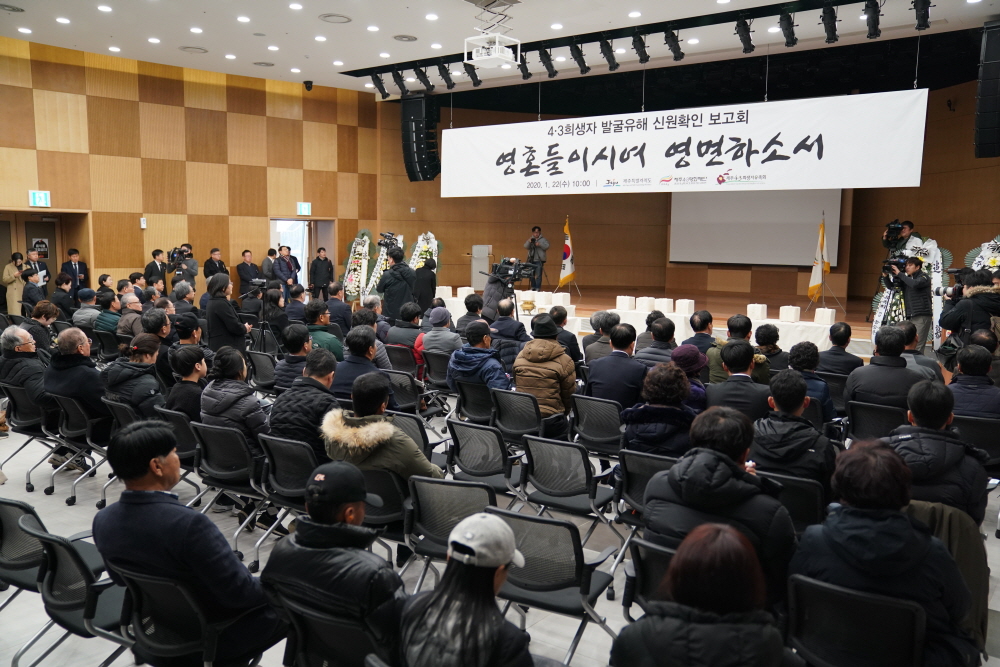 "It was possible to collect data by using various DNA testing techniques, and, above all, thanks to a great number of bereaved family members who participated by donating blood, we were able to identify who the victims were," said Lee Soong-deok, a professor of Seoul National University. He added, "For those who have not been identified, the participation of bereaved families will be crucial. We ask for your continuous interest and participation."
Yang Jo Hoon, chairperson of the Jeju 4·3 Peace Foundation, said, "The fact that the identification rate of the victims of Jeju 4·3 has reached 33 percent is a remarkable achievement that should be recognized in Korea given that less than 2 percent of those killed during the Korea war have been identified." He highlighted, "However, the bereaved families who have not been able to recover the remains of their family members who were the victims of the preventative custody in the Jeju Northern District are still buried in grief. In order to ease the grief of bereaved families, we will do our best in our efforts to identify more victims."
The bereaved families then put the name tags onto the urns of their deceased family members, and weeping broke out through the building. Even long after placing the name tags on the urns, they sobbed.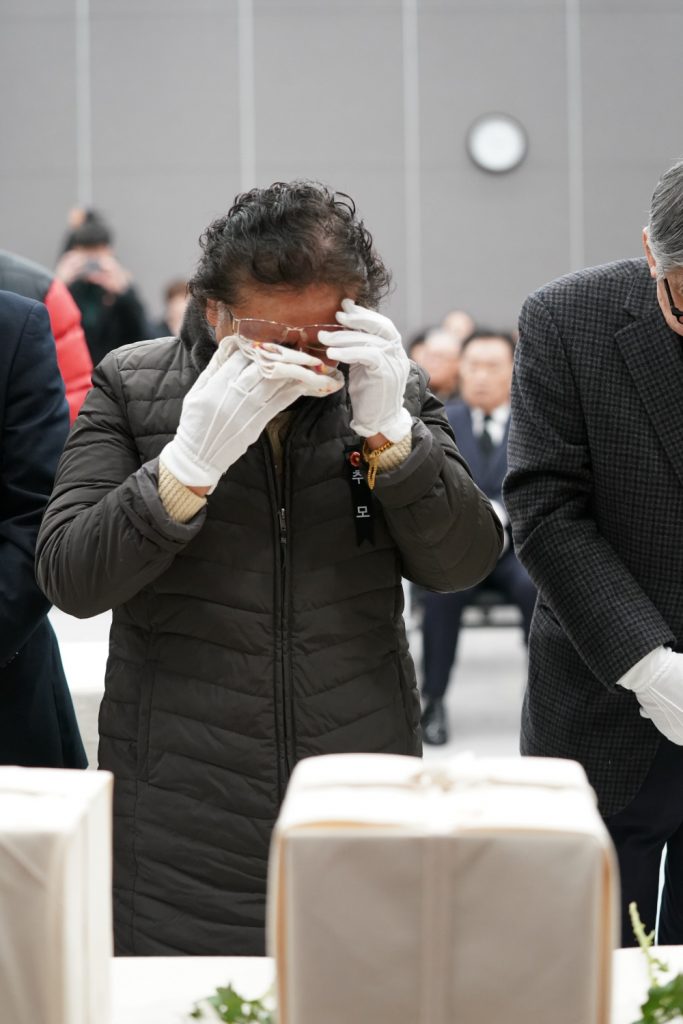 "My older brother who I have been longing to see for such a long time has finally come back home," said Kim Yeong-ho, who spoke on behalf of the bereaved families. "Although only his remains have been returned, I am very happy. However, at the same time, I also grieve bitterly over my brother's wrongful death who was only 19 years old when he was killed. Not only for my brother but also for other victims of Jeju 4·3, I grieve for them to rest in peace, as such a tragic incident should not happen again. We sincerely hope that the remains of more victims can be recovered and identified as soon as possible so as to appease the sorrow of the bereaved families."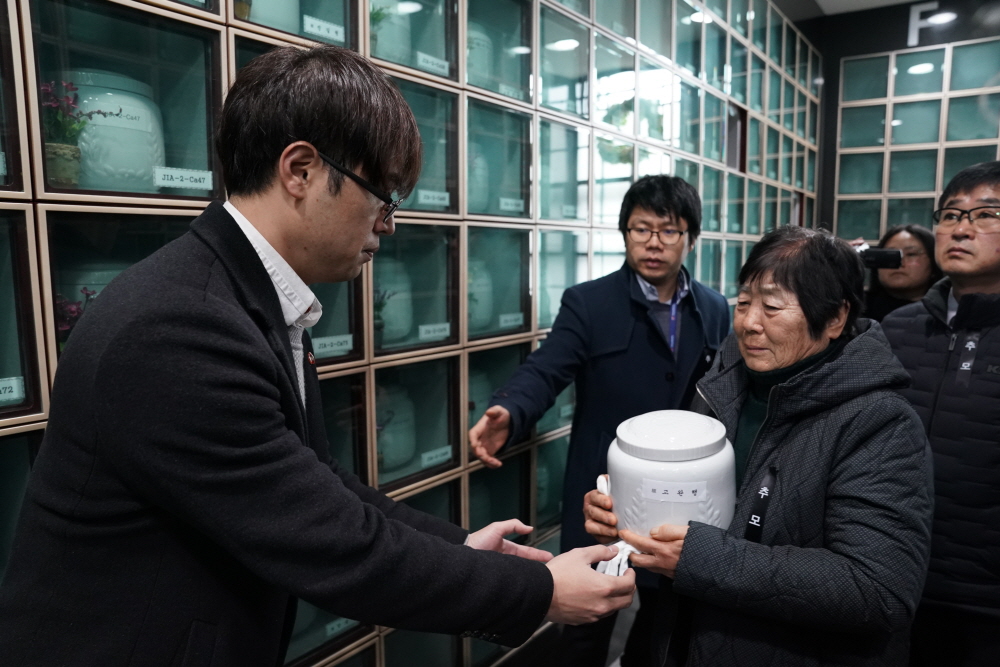 The identification of the remains was followed by the offering of flowers and the burning of incense by participants, including Kim Seong-eon, vice governor for administrative affairs; Kim Tae-seok, chair of the Provincial Assembly; Song Seung-moon, chair of the Association for Jeju 4·3 Victims and Bereaved Families; and Yang Jo Hoon, chairperson of the Jeju 4·3 Peace Foundation. The bereaved families placed the urns in the Bongangwan enshrinement hall in the Jeju 4·3 Peace Park and prayed for their eternal rest during a joint memorial service.