"I Can Speak" about Jeju 4·3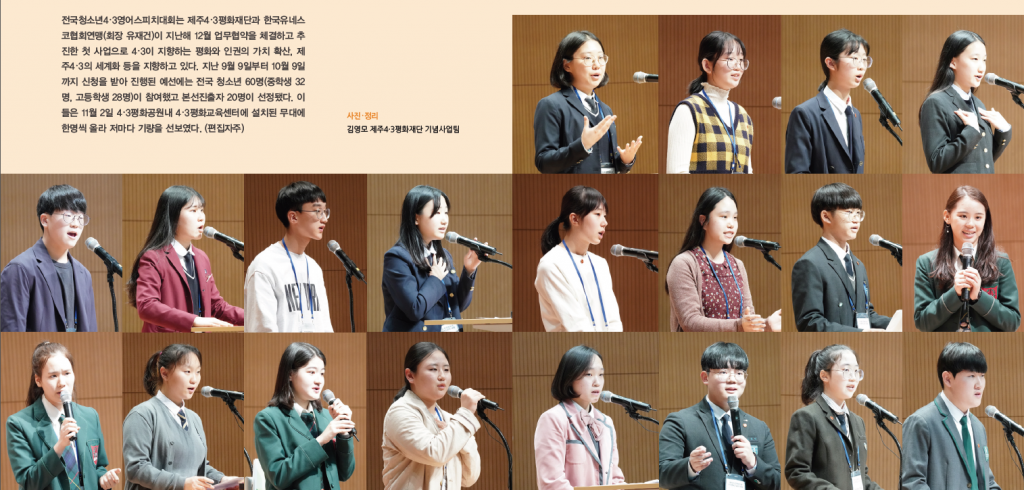 As the first project initiated through an agreement signed in December by the Jeju 4·3 Peace Foundation and the Korea National Federation of UNESCO Clubs and Associations, the National Youth Jeju 4·3 English Speech Contest aimed to globalize the history Jeju 4·3. Following the Sept. 9 to Oct. 9 registration period, 60 students (32 middle school and 28 high school students) across the country competed in the preliminary round with 20 of them reaching the final. The finalists showcased their brilliant speeches on the stage at the 4·3 Peace Education Center in the Jeju 4·3 Peace Park. (Editor's Note)
Photographed and edited by Kim Young-mo, Commemoration Team, Jeju 4·3 Peace Foundation
Report one hour before the contest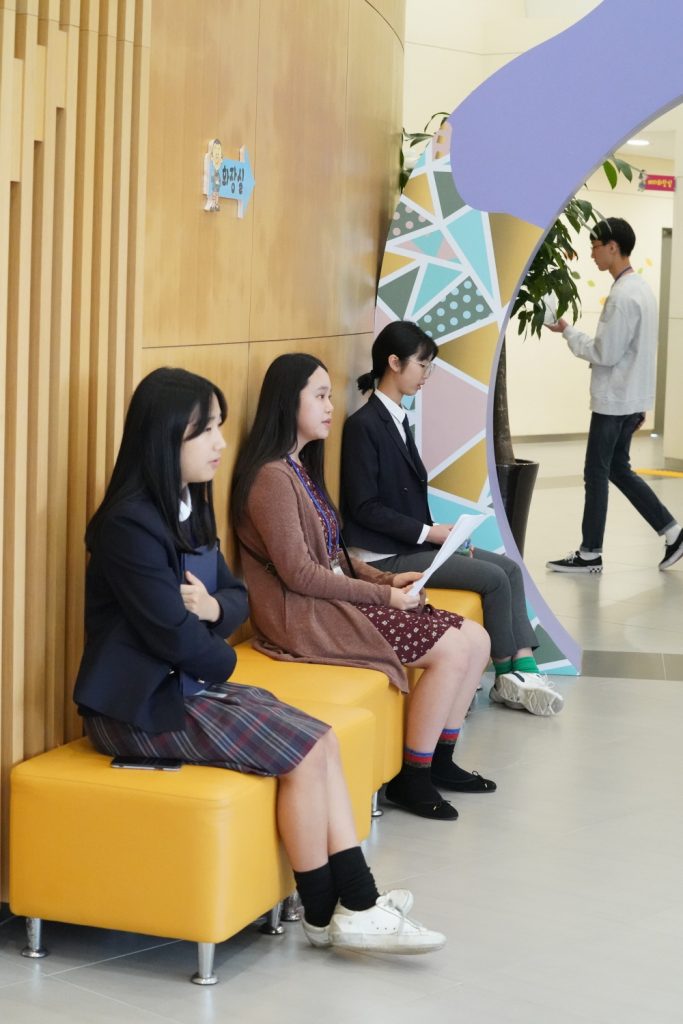 Carrying their scripts nervously, the finalists tried to memorize every line of their speeches. It was a challenge for them to study the true history of Korea — that tens of thousands of Jeju citizens died amid an armed conflict between guerrillas and government security forces that erupted on the island following the infamous March 1st Shooting Incident of 1947.
Their English-language speeches were packed with difficult words and concepts such as the March 1st Independence Movement Day ceremony, massacre, reconciliation and coexistence.
Moreover, most of the students had no knowledge of Jeju 4·3 before they participated in the contest. They studied the topic with the use of the 4·3 Peace Foundation website and archive and YouTube videos to write their speeches, which were filled with deep emotion and well-thought out opinions.
With the help of their parents, they checked whether their English pronunciation, facial expression and gestures were natural, and in the end their parents helped them achieve satisfying results by monitoring the length of their speeches and correcting their mannerisms.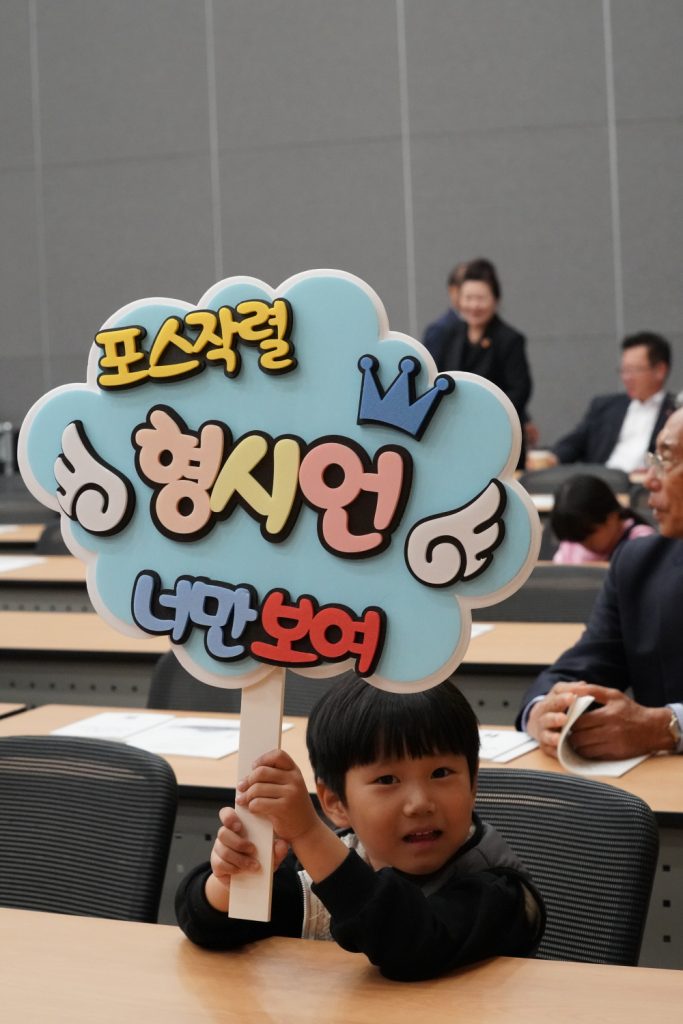 Though the finalists were rivals, they all helped one another to ensure they all did their best. When the final was about to begin, the hall was full of about 200 audience members. Not only their families but also close friends and school teachers, including native English-speaking teachers, came to show their support.
Report of the final
"With this contest, we are aiming to achieve the purpose of UNESCO, which promotes world peace and human development — inherit lessons of Jeju 4·3," said Yang Jo-hoon, chairperson of the Jeju 4·3 Peace Foundation, in his opening address. "The Jeju 4·3 symposium was held in June at the U.N. headquarters in New York, and awareness of our history is growing. We hope the youth of Korea will pave the way to globalize Jeju 4·3."
"Jeju 4·3 should not end with welfare policies for victims but with awareness and love," said Yoo Jay-kun, chairperson of the Korea National Federation of UNESCO Clubs and Associations. "I respect your decision to participate in the contest and I would like to celebrate the fact you are qualified to become a global leader," he added, and drew a round of applause from the audience.
"No one can become a global leader in a day," said Lee Sun-hwa, chairperson of the Korea UNESCO Jeju Association, who organized the competition. "I hope you join this contest with commitment and passion."
Each contestant took to the stage one at a time in order of youngest to oldest, giving a speech about truth, lessons learned from Jeju 4.3, world peace and human rights. Though nervous, they delivered their speeches with ease, ensuring their gestures were natural and that they maintained eye contact with the audience.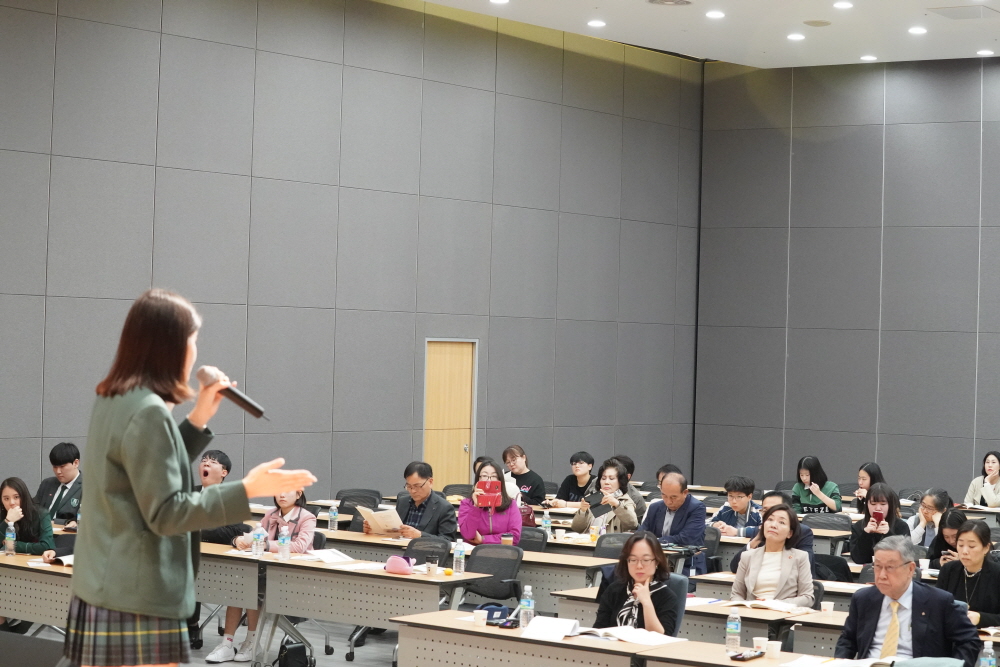 The high school contestants were noted for their superior skills as not only did they memorize their speeches but appeared relaxed, using the entire space of the stage as they spoke. They received applause from the judges as well as from the audience and left a deep impression on the middle school contestants.
The jury — consisting of Chairperson Yoo, Yonsei University Professor Park Myung-rim and Jeju Dark Tour Chairperson Baek Ga-yoon — scrutinized all aspects of the students' speeches before awarding them their scores.
"I was impressed and shocked by how talented the youth are and I could see their passion, skills, preparedness, efforts and mind," said Professor Park. "It would be better not to show knowledge and maturity like adults in the future, but to move the hearts of adults and share their lessons with enthusiasm and sensitivity as only the youth can."
The Winners
Ko Ga-yeon, a 10th grade student at Banksome Hall Asia, won the grand prize for her speech preaching that the tragic history of Jeju 4·3 should never be repeated.
She delivered her speech titled "My Hope" and received high scores under the criteria of adherence to theme, clarity of presentation/expression, creativity and posture/attitude.
The grand prize winner received the award from the Minister of Education and an additional prize of 1 million won as well as the privilege to attend a foreign event hosted by the 4·3 Peace Foundation. Hyeong Si-eon, a 3rd grade student at Oreum Middle School, and Kim Seung-hee, a 2nd grader at the Chungnam Foreign Language High School, received first-place prizes from the Jeju Special Self-Governing Province governor.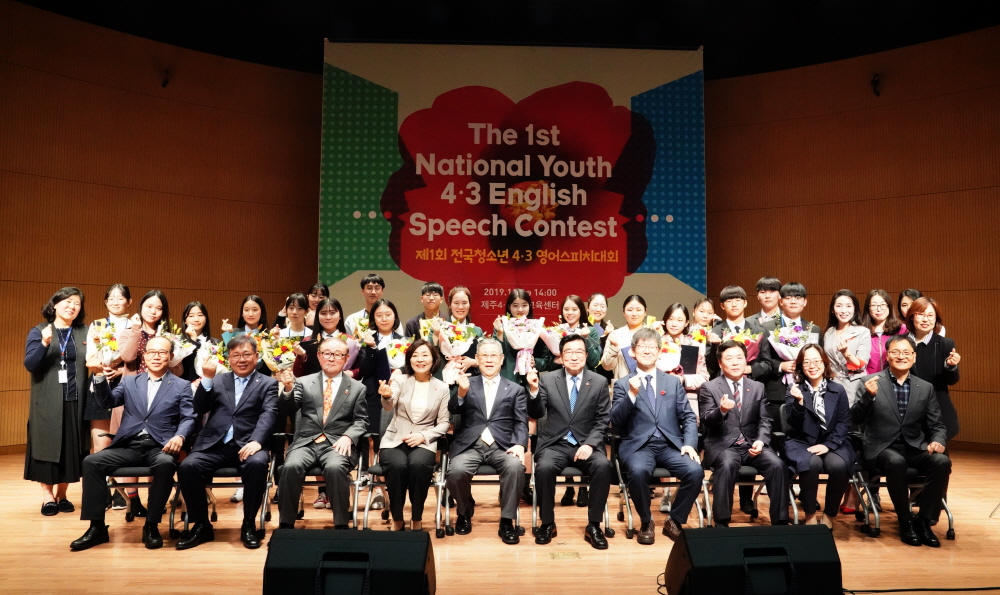 My Hope – Ko Ga-yeon
I have a badge on my necktie. A camellia flower badge. The Camellia flower symbolizes "Wait." The wait and patience of more than 30,000 casualties. They are waiting for the truth to be divulged and peace to be regained. As I delved into the cause of the annihilation, I was shocked and dismayed by how the innocent civilians were barbarically trampled down. On behalf of the Jeju uprising victims, I'm here to reveal the truth which is rarely perceived and the ignorance that too often abounds.
The fundamental reason that the incident occurred lies in the resistance of communist forces toward the establishment of Korea and the following of the US-backed South Korean police and right-wing paramilitary groups. So what triggered this incident? The Jeju uprising begins with an accidental collision between a horseshoe of a police officer's horse and a child during the March 1st celebration. As police remained ignorant, civilians threw rocks at him, which led other officers to fire their guns at 6 innocent people. This led to rising tensions between the resistance of the Jeju Worker's Party, the communist party, and the police suppression. On April 3rd, 1948, the Worker's Party eventually declared an armed uprising against the police. By this point, the communist party had linked their struggle to local efforts against the exclusive elections for the establishment of the South Korean government. As the turnout of Jeju Island was invalidated in the election, the US military and Seungman Lee government indiscriminately murdered anyone seen on the island's mountainous regions, with the declared goal of eliminating any existing communist militia. Making it impossible for anybody to escape, the government broke into villages and set them on fire. Although there were several occasions where the tragedy could have been stopped, the government did not distinguish between the actual members of the communist party and the innocent Jeju citizens. Jeju Island, as you now know as a part of the most peaceful tranquil heritage, was actually the territory of massacre all over the place.
Then how can we make peace permanent in South Korea? We have no more pressing task then retaining peace in our nation. Peace need not be unattainable, conflict need not be inevitable. Peace should be demanded and further regulated. We need to unite South Korea: no left or right wing. It is crucial we build peace in Korea by reducing the conflict between ideological rivalries. We must enforce non-violence and ensure all people are respected. How? By working together as one nation on stabilizing national power, founded on the basis of equal human rights. The Jeju 4.3 uprising was a tragic incident that blatantly disregarded human rights, especially the personal safety of civilians in combat. Massacre can never be justified.
Now I will ask you a question. Why do we need to learn this horrendous history? As a South Korean student, we should be learning Korean history not to get high scores but to prevent this tormenting history from reoccurring. Nevertheless, Korea is in an extreme tumult, undergoing conflicts between ideologies, regions, generations, classes, and gender. Then what is the purpose of learning history if history is virtually repeated? I am perturbed that our thick history textbook will become even thicker if new agonizing historical events are ceaselessly added. Why should the records of history all be woeful? Why can they not be full of negotiation, equity, human rights, and peace? My hope is that this futile incident will never happen again; my hope is that the victims' families will receive a formal apology from the government. The past few generations of Koreans, they have already had more than enough of war, detestation, and maltreatment as humans. Our actions matter and can bend history in the direction of peace and human rights. It is time for us to act.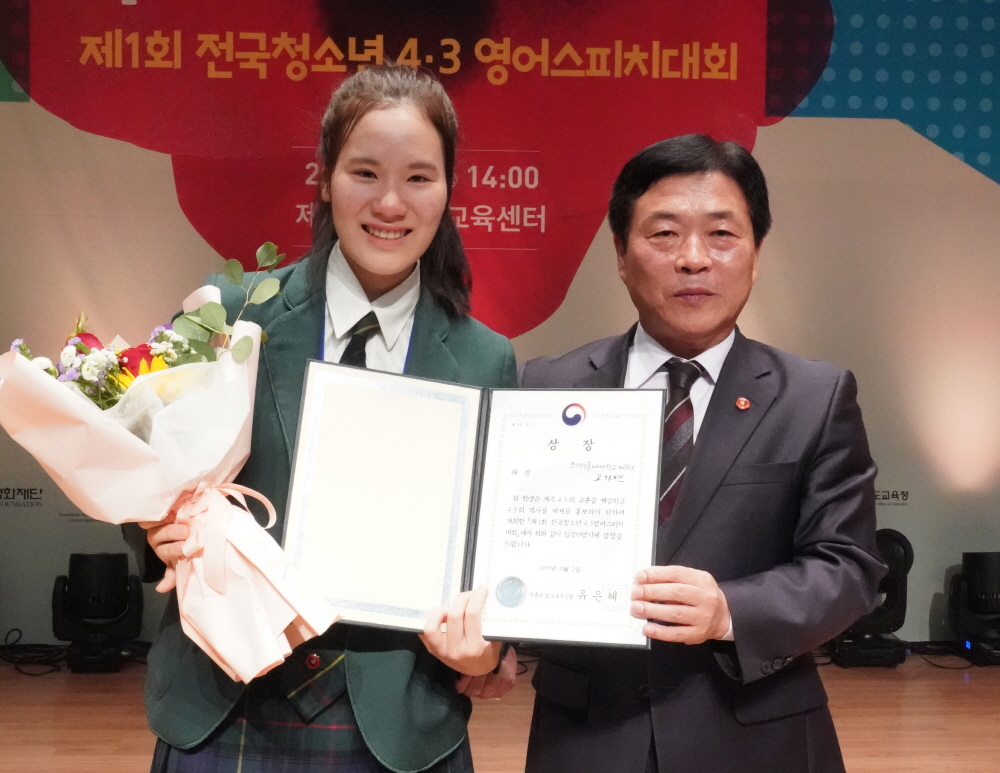 Grand prize acceptance speech of Ko Ga-yeon
I was so nervous. Thank you for awarding me this prize. I believe the judges gave me good marks because I emphasized peace and human rights and stayed on the theme with self-confidence. I didn't know about Jeju 4·3 but felt so sad when I heard of Kim Yeon-ok's story on a broadcast commemorating the 71st anniversary of Jeju 4·3 Uprising and Massacre. She couldn't eat fish because the bodies of her family were dumped in the sea of Jeju. In preparation for this contest, I studied and learned more about the truth of Jeju 4·3 and the value of peace and human rights. I hope that Jeju 4·3 will become etched in history beyond Jeju. I will also try to promote Jeju 4·3. I saw many competition announcements on the homepage of the 4·3 Peace Foundation, so I will try to participate in the competitions next year. Thank you.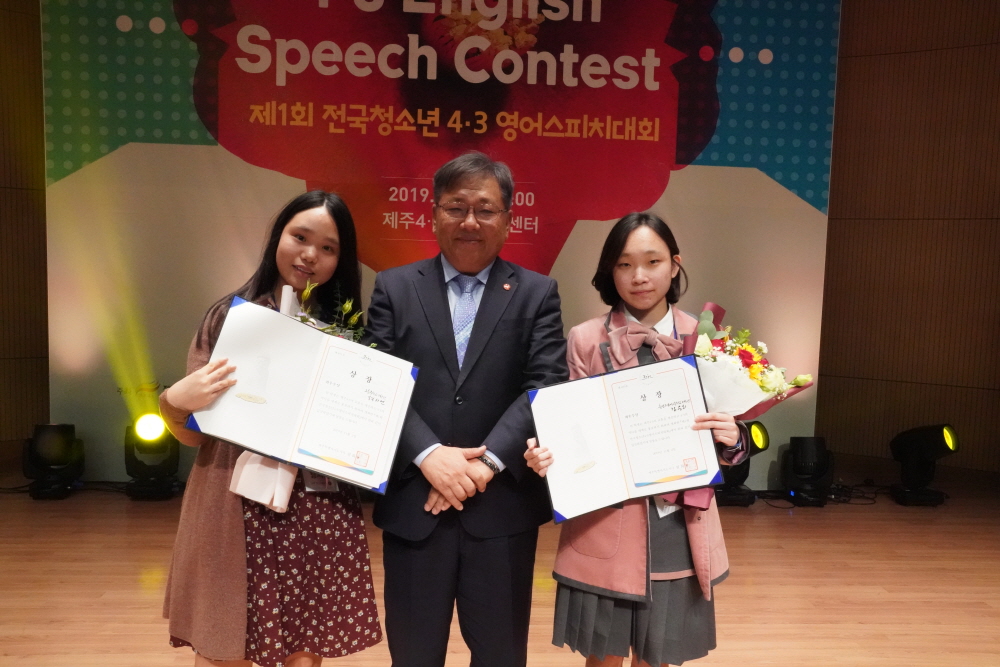 First prize acceptance speech of Kim Seung-hee
Thank you for awarding me this great prize despite my mistakes. Because Jeju Island is known as the most peaceful and warm place in Korea, Jeju 4·3 is that much more shocking. I prepared for this contest by focusing on the historic process of Jeju 4·3 and peace in the position of ordinary students rather than focusing on whose fault it was. I think when we learn, remember and recognize the history of an incident, we can take a step toward peace. Peace is a masterpiece created by individuals who remember all the sad histories and strive not to repeat them. I hope that not only students from Jeju but also all middle and high school students across the country will be able to know about Jeju 4·3 and participate in this contest next year to correct and promote our history to the world.
First prize acceptance speech of Hyeong Si-eon
I thought I would fail to pass the preliminary stage due to my inexperience, so I am bewildered at winning this great prize. I would like to thank my family and friends who helped me practice, and my teachers who teach me English grammar. I am from Seoul and now I go to school in Jeju. I was surprised that people from the mainland don't know much about Jeju 4·3. Textbooks describe Jeju 4·3 in two or three lines, so I stressed that Jeju 4·3 should be widely known. I hope textbooks deal with Jeju 4·3 better in the future, and that the 4·3 Peace Foundation will try to host more events like this one in the future. Thank you.