Handing over her painful memories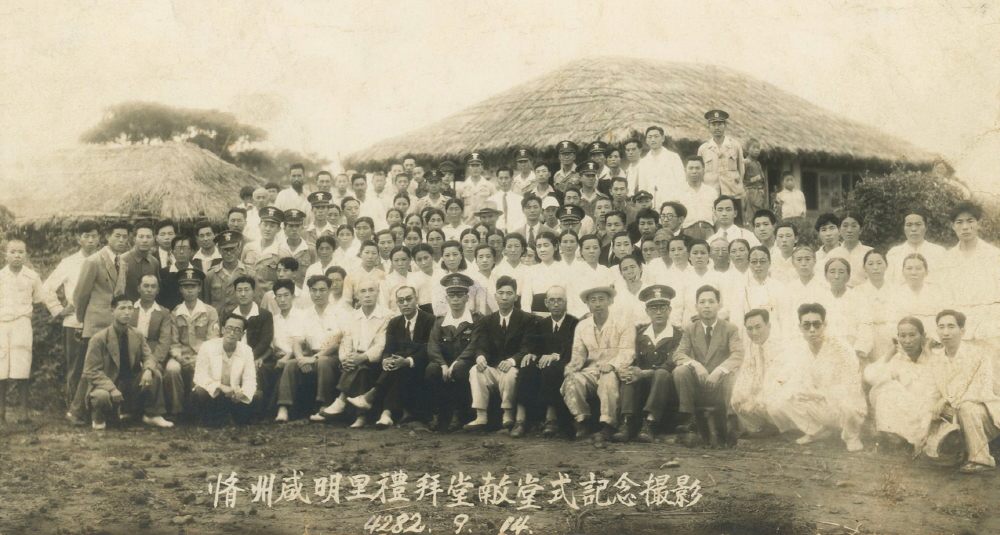 Ms. Chun-ja Kim donated her own photos describing Jeju 4·3 and dedication of a church.
Ms. Kim Chun-ja donated her Jeju 4.3 photos, passing on her painful memories
An 80-year-old lady and member of the bereaved families of Jeju 4·3 donated photos from the tragic incident and made a monetary contribution.
Kim Chun-ja, a bereaved family member of Jeju 4·3, recently paid a visit to the Jeju 4·3 Peace Foundation (Chairperson Yang Jo-hoon) and donated six pictures she had owned for the past 70 years. She also donated 1 million Korean won to the foundation.
Born in the village of Geo-ro, Hwabuk, Jeju, Ms. Kim was only 9 years old when her father, her uncle, and her youngest aunt were shot to death, while an uncle–a twin–was taken to a prison on the mainland of Korea.
Ms. Kim's father and her aunt, who was a middle-school student, were caught in a mass killing of 70 residents in Gwedongsan, Dodu, on Feb. 20, 1949. The tragedy continued as one of the twin uncles, who was a brilliant student at the school of agriculture, was found dead near Gosan Dongsan, while the other twin ended up being a prisoner in Incheon.
Ms. Kim's grandfather, Kim Gwang-soo, who lost four of his children, took up the role of father to his 9-year-old granddaughter. Until death, he cherished the pictures of his sons and daughter, sometimes shedding tears.
The 6 pictures, keepsakes of Kim Gwang-soo, were donated to the Jeju 4‧3 Peace Foundation. The pictures depict the graduation ceremony at the Jeju Public Agricultural Middle School, the graduation ceremony at Hwabuk Primary School, and some memorial scenes at the dedication ceremony at Hammyeong-ri (formerly Bonggae-ri) Church in Jeju.
Among the pictures, that of the dedication ceremony at Hammyeong-ri Church, taken on Sept. 14, 1949, is valuable as historic material. The ceremony was joined by executive staff of the police, local personages, and residents. Also, the name Hammyeong itself contains a painful story.
During the reconstruction of the village in 1949, the commander of the 2nd Regiment, Ham Byeong-sun, and his operation staff, Kim Myeong, who devastated the village of Bonggae in February 1949, changed the name of the village to Hammyeong, which is a combination of their names. Later on, the name of the village, "Bonggae" was reclaimed by the local residents, who would not tolerate the humiliation.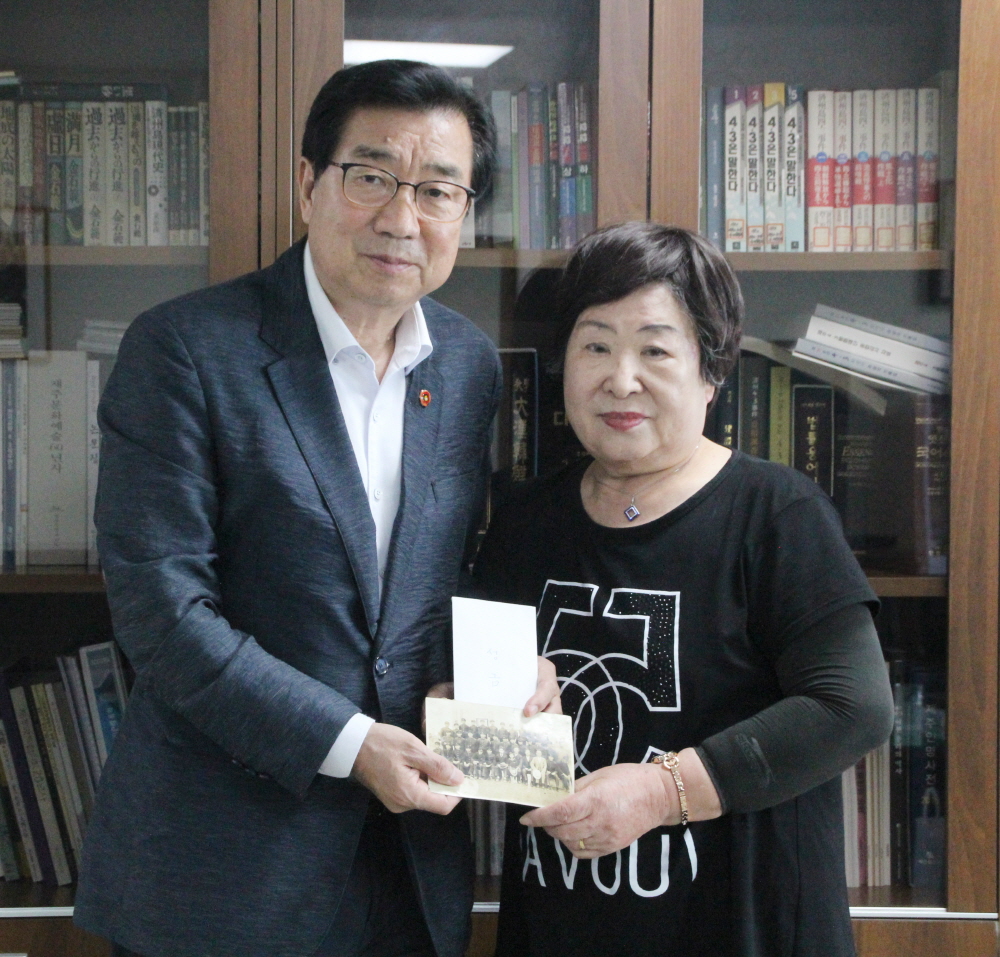 Ms. Kim said as she handed over the pictures, "I always feel consoled and comforted whenever I see the ancestral tablets enshrined at the Jeju 4‧3 Peace Memorial Park. I feel more attached to the memorial building and the park after the donation."
She also donated 1 million Korean won and added, "I am making a small contribution just to add one more tree to the park where the souls of the victims of Jeju 4‧3 can be laid to rest in peace."