Apostolic nuncio to S. Korea visits 4·3 Peace Park to pray for reconciliation, peace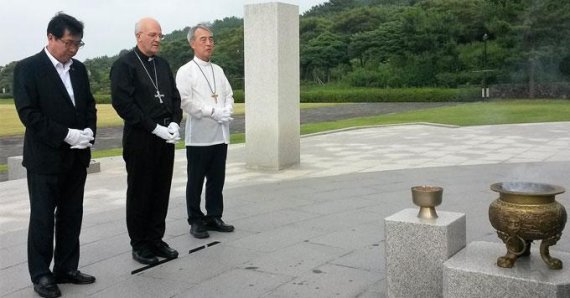 Archbishop Alfred Xuereb, apostolic nuncio to Korea, paid an official visit to the Jeju Diocese to deliver funds from papal charities. He also stopped by the Jeju 4·3 Peace Park to pray for the victims of the Jeju Uprising and Massacre as well as their families.
The Vatican's top envoy in Korea and Jeju Diocese Bishop Peter Kang U-il visited the park on July 29 and met with the park's president Yang Jo Hoon. After discussing the history and valuable lessons learned from Jeju 4·3, they took a two-hour tour of the park, looking around the Peace Memorial Hall, the Memorial Tablet Shrine and the Grave Markers for the Missing.
While paying his respects at the memorial altar, Archbishop Xuereb said, "seven decades ago, God must have suffered together with the Jeju people, not merely looking down from heaven." He also said in his prayer, "may God be with us in making the world a better and more righteous place." He then expressed his determination to attend the official memorial service next year.
Before leaving the park, Archbishop Xuereb inscribed on the visitors' book a message of blessing and peace for the local public. His message reads: "We should make more efforts to promote education on the history of Jeju 4·3 so that we can prevent any such tragedy from occurring again. We should also encourage more people, especially young students, to visit this park to bring peace to the world."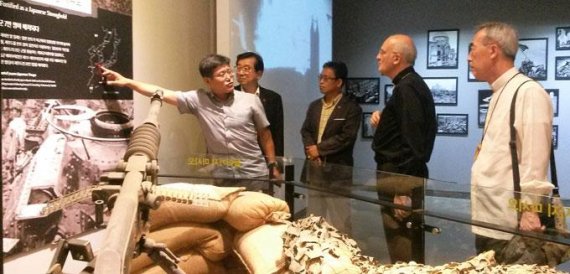 Copyright ⓒ fnnews.com | Original Article Here